Cultural and Creative Mural Spaces
Community, Culture and Tourism of Uruguayan Contemporary Muralism and Other International Mural Spaces
Santamarina-Campos, Virginia, Martínez-Carazo, Eva-María, de Miguel Molina, María (Eds.). Springer, 2021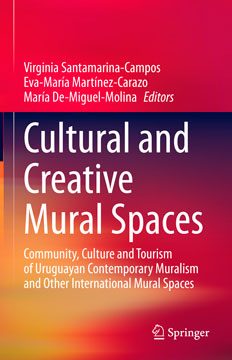 Summary
This book puts into context the evolution of mural art in recent years, particularly the case of the contemporary muralism in Uruguay. While the focus of this volume, revolves around Uruguay, the editors demonstrate that circumstances found in Uruguay are also reflected widely in a large number of cases worldwide. 
Mural art has evolved from an elite audience to a more popular objective. At the same time, it does not lose the necessity of high value artists that, not only technically but also conceptually, will be able to connect to the audience and provide a sense of identity and necessity of preservation of this art.
This leads to a down-top approach, where different actors take part in the process, from the conceptualization to the conservation. Moreover, mural art has been studied as a driver of local economic development, attracting visitors and tourists can access these open-air museums easily. This book is of interest to students and researchers working in fine art, heritage and museum studies.
Access